Menu

Great drinks, tasty food, and relaxing digs. There's always something cooking at The Abbey.
TabGarb Error : "Breakfast" Tab Not Found.
[tabgarb=tab1]
(served from 6:30 a.m. to 10:30 a.m.)
Egg-Bake Panini
Egg Soufflé, cheddar, sautéed spinach, & green onion topped with Gouda and sun dried tomato pesto on sourdough bread.
$4.95
Steel cut Oatmeal
Served with seasonal fruit, walnuts, & brown sugar.
$4.25
Bagel with Cream Cheese
$1.75
Toast
Wheat, Sourdough or Rye
$2.00
House-made Pecan Roll
$2.50
Seasonal Fresh Fruit Cup
$3.50
Assorted fresh pastries from our bakery
[/tabgarb]
[tabgarb=tab2]
(served from 11:00 a.m. to 6 p.m.)
Cold Sandwiches
$7.50
(Choose 8 grain, rye or croissant served with spring mix or chips)
The Abbey Club
Salami, turkey, ham, with cheddar and Swiss topped with lettuce, honey mustard and mayo.
Chicken Salad
Chunky chicken mixed with sweet red grapes and chopped walnuts.
Turkey & Swiss
Lettuce, honey mustard and mayo.
Ham & Swiss
Lettuce, honey mustard and mayo.
Tuna Salad
Albacore mixed with mayo and sweet pickle relish with lettuce.
Veggie Sandwich
Sliced cucumber, tomato, Swiss and cheddar cheeses, chopped lettuce and olives with Italian Dressing. (Not available in 1/2 portions.)
Roast Beef
Prime Cut Roasted Beef with bread and butter pickles, Swiss cheese and lettuce, topped with creamy horseradish sauce. (Served cold or hot as a Panini.)
Hot Sandwiches
$7.50
(Choose 8 grain, rye or croissant served with spring mix or chips)
Reuben
Thinly sliced corned beef, flavorful sauerkraut, thousand island and Swiss on Marble Rye—toasted to perfection.
Roasted Eggplant Panini
With roasted red peppers, spinach, red onion, Gouda cheese and pesto mayo on sourdough bread. (Not available in 1/2 portions).
Tuna Melt
The Abbey Classic tuna with two slices of cheddar served hot and toasty.
Gourmet Grilled Cheese
Cheddar & Swiss cheeses grilled to perfection.
Hot Ham & Cheese
The Gourmet Grilled Cheese with thinly sliced ham.
Caprese Panini
Tomato, spinach, mozzarella, and pesto mayo on sourdough bread.
Soup of the Day
$3.95
Become a friend of the Belleville Abbey on Facebook and receive daily posts of soup specials.
Salads
$7.50
Abbey Salad
Greens, Mandarin oranges, walnuts, and red onions, topped with crumbled Feta cheese with your choice of dressing.
Garden Salad
Greens, grape tomatoes, red onion, cucumber, black olives, and topped with a blend of Provolone, Mozzarella and Cheddar cheeses.
Sweet Louise
Greens, red onion, dried cranberries, glazed pecans and goat cheese.
Priester's Park Salad
Bed of Spinach, red onion, bacon, candied pecans, and blue cheese. Served with poppy seed dressing.
Dressings: Ranch, Italian, Poppy Seed, Raspberry Vinaigrette, Thousand Island, Balsamic Vinaigrette, Lemon Olive Oil Vinaigrette
[/tabgarb]
[tabgarb=tab3]
Evening Menu
(served Thursday & Friday evenings from 5:30 – 9:30pm)
Small Plates & Salad
Summer Cheesekeeper
From our neighbor, Diane Hamilton. Applewood smoked cheddar & peppercorn gouda cheeses with artisan bread, roasted cashews & dried fruit.
$12.00
Pretzels & Stag Beer Cheese
Soft pretzels and a warm, spicy cheddar cheese beer sauce made with Belleville's Golden Goddess.
$8.00
Panzanella Salad
This is a grilled bread based salad with spring greens, artichoke hearts, tomatoes & olives tossed in a house-made balsamic vinaigrette.
$10.00
Abbey Crab Cakes
3 New England crab cakes over a bed of greens and topped with a New Orleans remoulade sauce.
$12.00
Tenderloin Paddles
4 skewers of grilled pork tenderloin medallions served with a spicy Sriracha marmalade.
$8.00
Sliders & Sandwiches
Abbey Blue Cheese Sliders
Ground sirloin, from our friends at "Nick & Vito's," grilled with a red wine sauce, criss-crossed with Blue Costello, served on french rolls.
$8.00
Lil' Lamb Sliders
Ground lamb and herb patties with a garlic/almond butter sauce and topped with radish & red cabbage slaw.
$8.00
Reuben Panini
Corned beef, kraut, thousand island, and swiss on marble rye. Served with chips.
$7.50
Chicken Salad Sammich
Chunky chicken with sweet red grapes and chopped walnuts on 8 grain bread. Served with chips.
$7.50
Flats
Asparagus Flat
Baked flatbread topped with goat cheese, shaved asparagus, red onion, crimini mushrooms, & a port wine balsamic reduction drizzle.
$10.00
Chorizo Flat
Flatbread topped with goat cheese, house-made chorizo sausage, red onions, grated parmesan, & a cilantro cream sauce.
$10.00
Caprese Flat
Flatbread topped with pesto, mozzarella cheese, grape tomatoes, kalamata olives, & a touch of olive oil.
$10.00
Prosciutto Fig Flat
Flatbread topped with roasted garlic marinara, mozzarella, prosciutto, figs, & caramelized onions.
$10.00
Pesto Olive Flat
Flatbread topped with goat cheese, basil-pesto, and kalamata olives.
$10.00
Everything Else
Sprouts & Bacon
Roasted brussels sprouts with bacon & capers served with house-made horseradish sauce.
$6.00
Salmon Pasta
Pan seared salmon served over bow tie pasta with asparagus & roasted redpepper in a light cream sauce. Served with a warm baguette. Salmon is fresh and may have a bone, or two.
$14.00
Also, enjoy a fully stocked bar of top-shelf spirits, craft and imported beers, and fine wines with your dinner.
[/tabgarb]
[tabgarb=tab4]

Stop in and try everyone's favorite specialty item- Gelato – made on site! Our in-house Gelato Maestro cooks up a variety of exotic and "tried and true" flavors daily – each one more tantalizing and refreshing than the next!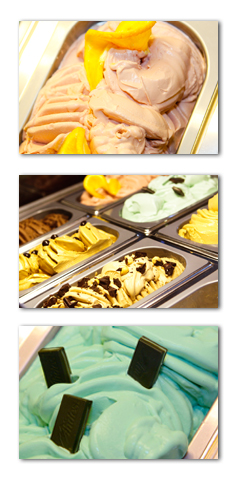 Flavors
Vanilla
Chocolate
Peanut Butter Chocolate
Blood Orange
Strawberry
Blueberry Cheesecake
Grapefruit
Mint
Caramel
Salted Caramel
Hazelnut
Amaretto
Banana
Coffee
Wild Berry
Coconut
Pistachio
Lemon
Cotton Candy
*Available flavors vary daily
[/tabgarb]
[tabgarb=tab5]
Hot or cold, but fresh by the minute, our large variety of standard and specialty coffee drinks will surely please event the most discerning coffee connoisseurs.
Hot Beverages
Coffee of the Day
Small – $1.69
Large – $2.01
Caffe Au Lait
Brewed coffee and steamed milk
Small – $1.95
Large – $2.25
Assortment of Hot Teas
Small – $1.69
Large – $2.01
Chai Tea
Small – $3.00
Large – $3.51
Hot Cocoa
Small – $2.25
Large – $2.75
Espresso Drinks
Caffe Latte
Espresso with steamed milk topped with foamed milk
Small – $3.14
Large – $3.51
Cappuccino
Espresso with 1/2 steamed milk 1/2 foamed milk
Small – $3.14
Large – $3.51
Caffe Mocha
Sweet chocolate mixed with espresso and steamed milk then topped with whipped cream
Small – $3.45
Large – $3.75
Caffe Carmocha
Mocha with carmel syrup
Small – $3.45
Large – $3.75
Americano
Espresso and hot water, a lot like a strong brewed coffee
Small – $1.60
Large – $1.85
Espresso
Espresso straight
Extras – shot of espresso, gourmet flavored syrup, whipped cream, soy milk
Cold Beverages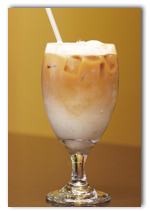 Iced Latte
cold milk and espresso over ice $3.51
Iced Cappuccino
Cold milk and espresso over ice topped with foamed milk $3.51
Iced Mocha
Espresso, chocolate, and milk topped with whipped cream $3.75
Italian Soda
Soda water mixed with a gourmet syrup over ice $2.20
French Soda
Soda water, gourmet syrup, and heavy cream over ice $2.30
Iced Tea
Sweetened Raspberry, Unsweetened Regular Ice Tea, and Regular Unsweetened Flavored Tea of the Day $1.75
Iced Coffee
$2.01
Milk
Regular or Chocolate $2.00
Fruit Juices
$1.25
Soda
$1.75
Blended Beverages
Granita
milk, espresso, chocolate, vanilla, or caramel blended and frozen $3.75
Fruit Smoothies
Strawberry, Banana, or Wild Berry $3.75
Chai Granita
Milk and Chai blended and frozen $3.75
Extras – Add a shot of Espresso, Protein, Soy Milk, or Gourmet Flavoring
*All drinks come with your choice of skim & 2% milk
[/tabgarb]
[tabgarb=tab6]
Abbey Desserts
Peanut Butter Chocolate Chunk Cookie
Oatmeal Raisin Cookie
Gigantic Marshmallow Treats
7-Layer Bar
Seven Luscious Layers of Dark and Milk Hershey's Chocolate Chunks, Butterscotch, Coconut, Walnuts, on a Delicious Graham Cracker Crust.
Totally Oreo Brownie
A classic brownie with a White Chocolate Cheese Filling in the center, Topped with Chunks of Oreo Cookies and Drizzled with Chocolate Glaze.
Chocolate Chunk Brownie
A classic brownie filled with chunks of chocolate.
Summerberry Stack
Buttery Graham Cracker Crust, with Layers of Citrus Flecked Cake, Bright Berries, and Tart Key Lime and Creamy White Chocolate Cheese.
Chocolate Peanut Butter Stack
Sweet and Salty Peanut Butter Crunch, Light and Creamy Milk Chocolate and Buttery Caramel. All layered twice on delicious Brownie-Cake, topped with Crunchy Honey Roasted Peanuts.
Toffee Crunch Blondie
A Buttery Blondie loaded with Creamy White Chocolate Chunks, Semi-Sweet Chocolate, and Chewy Pieces of Heath Toffee.
[/tabgarb]
[tabgarb=tab7]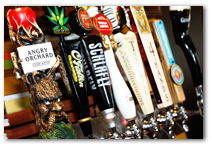 The Abbey features a bar fully stocked with many spirits, a wide variety of draft and bottled beers and an ever-enlarging selection of choice wines. Our spirits are hand selected for their quality and unique characteristics, with an emphasis on providing the variety required to construct as many different delicious cocktails as possible. The bottled beer collection encompasses the worlds' most ubiquitous types of brews, and each one is a quintessential expression of their style. We also feature the areas largest selection of bottled Belgian Trappist ales. Brewed and bottled in monasteries by Cisterian monks using hundreds years old recipes, these beers are considered by many to be the best in the world. Our draft selection is always changing and always features several locally made brews. Finally, our selection of wines is always expanding and features a great selection of delicious examples of both popular and lesser known grape varietals.
[/tabgarb]